Maplecrest Meats & More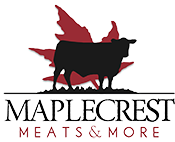 The beef business is a complicated fusion of livestock production, advancing science and technology, cattle finishing, processing, logistics and most importantly, the consumer.
Until 2020, our supply chain system had never failed to deliver plentiful inventories of safe, nutritious and tender beef. The unexpected disruptions in our complex supply and delivery systems created opportunity, as the demand for beef shifted from restaurant and food service to eating more meals at home.
Maplecrest Farms is a family-owned operation with a lifetime of experience breeding Angus cattle. As the family operation expands to enable the next generation to continue as partners, the need to diversify motivated us to consider bridging the gap between beef producers and consumers.
For decades, Maplecrest Farms has implemented best practice animal husbandry and genetic advancements to produce elite Angus cattle. The final step in beef production is to offer our home-raised product to you.
"Necessity is the mother of invention" is an ancient proverb attributed to the Greek philosopher Plato. If Plato was here today, he would probably say, "I told you so!"
Visit us over at our retail store located in Hillsboro, Ohio, or learn about our shipping options, recipes, menu and more at www.MaplecrestMeats.com